Food taste fundraisers are fun for any non-profit, as everyone loves attending events that allow them to please their palate and support a worthy cause simultaneously.
The Fun of Food Taste Fundraisers
Any fundraiser involving food is sure to draw a crowd, as eating has become a socially driven practice within our culture. However, a food tasting fundraising event can be even more fun, as it gives people the chance to sample many different types of cuisine, or a diverse variety of one genre. It is also easy to gather local vendors together for such an event, as tasting can lead to purchases of full-sized products.
Planning Your Fundraiser
When it's time to plan food taste fundraisers, the most important thing to have in place is a solid team. Delegate different tasks to get everything done correctly and on time.
Letter Writing
The most important part of food taste fundraising is to gather restaurants in the area to participate. If you choose to have a wine and cheese tasting fundraiser, for example, then you should write to the various vineyards and distributors in your area at least six months before your fundraiser to secure a date with them. If you have a church group or other non-profit where you have incredible family recipes just waiting to be shared, you may choose to have a food tasting fundraiser that just features those within your organization's inner circle. Again, provide all cooks with at least six months notice.
Securing the Venue
Along the same time line as the letter writing, you should secure a venue that is large enough for all of the guests you hope to host. Many recreation centers, school halls and other community locations will offer a discounted or free rate to non-profits, oftentimes just asking the group to pay a small fee for janitorial or set-up and break down services. If you are anticipating a smaller event, you can try to host in someone's home if it is large enough.
Meeting Together
Gather your committees together at least once a month during your planning process to keep everyone on track. Check in with your leaders and have some time where everyone encourages and helps out where needed.
Food Taste Ideas
These types of fundraisers can take many different forms - but here are just a few favorites to try.
Salsa Tasting
This works especially well with a church or small group where everyone knows each other. Challenge members of your organization to create their own winning salsa, in categories of mild, medium, hot and fire. Lay the salsas out in bowls with tortilla chips next to each, and allow tasters to vote on the best one. Charge a flat fee for the tasting, and encourage contestants to have a reasonable quantity of jarred salsa on hand to sell to those who love what they taste.
International Faire
If you are a member of a non-profit that celebrates diversity, or live in a part of the country where many different ethnic groups live in a concentrated area, consider having an international food tasting event. You can invite local restaurants from all genres to participate, and allow them to also provide tasters with business cards, discount coupons, to-go menus, or anything else that will make the time worth their while.
Dessert Buffet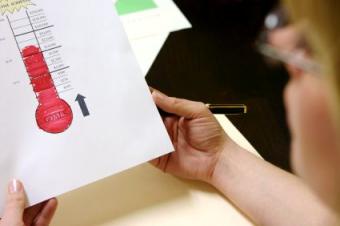 Again, charge a flat fee and allow patrons to enjoy an all you can eat dessert buffet provided by local bakeries and grocery stores. You'll be amazed at the delectable treats businesses roll out if you give them enough of a lead time, and everyone will have a sweet and memorable time.
Wine Tasting
Classy and appropriate for an adult only event, wine tasting reigns supreme when it comes to foodie fundraisers. Keep the party going with a spread of hors devours that people can munch on as they sample and mingle.
Fundraisers that involve food tasting are a hit in any part of the country with any clientele or budget. Consider it for your next big event, prepping you for a financially secure year of service.