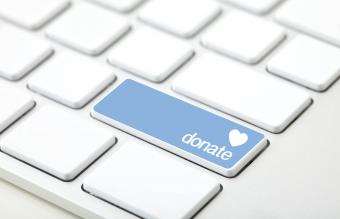 Fundraiser websites make it easy for nonprofits to promote giving through online portals. While there are numerous crowd funding sites where individuals can solicit donations, these options were made for professional organizations.
PayPal Donations
Trusted online banking site, PayPal offers a simple donation collection option for nonprofits, schools, or political groups. Setup is quick, and the donations appear in your account within minutes.
Available Tools
After you get signed up for a Business Account, nonprofit type, you choose one or more of their platforms:
The "Donate" button is added to your website or social media pages so donors can click on that button and pay using a credit card.
PayPal's Here app can be downloaded on a cell phone or tablet so you can accept fundraiser payments, like ticket sales, in person via credit card.
Create a custom PayPal.me with your organization's name then share it with donors so they can click and give.
Fees and Payments
Donors don't need a PayPal account to use these services. Standard services, which include the "donate" button, for qualified 501(c)(3) charities cost 2.2 percent plus 30 cents per transaction.
Pros and Cons
Since your bank account is directly linked to the PayPal account, it's easy to transfer available money whenever you choose. On the downside, there are no additional resources like fundraising pages or sign-up sheets available.
FirstGiving Pro
If you're looking for an all-in-one website for fundraising support, FirstGiving is a premium option. Schedule a demo, sign up for your preferred program, then sign up for free electronic funds transfers, and you're ready to tackle any type of fundraising.
Fees and Payments
You'll pay an annual fee based on the size and needs of your organization for their Pro package plus 7.5 percent for performance and credit card fees and 4.25 percent for registering events. However, these fees can be decreased thanks to the unique option where donors can opt to pay transaction fees.
Services
When you purchase the Pro version, you have access to a variety of fundraising tools such as:
Branded fundraising pages
Registration forms for events
Branded giving day campaign pages
Widgets like a "donate now" or "register here" button
Automatic tax receipts for donors
Pros and Cons
While the fees seem high and you'll only get distributions of your donations twice per month, FirstGiving is one of the few sites that covers all your fundraising needs in one place and generates tax receipts for donors.
SignUpGenius
SignUpGenius started as an easy online platform for keeping track of volunteers and donations of goods or money for fundraisers, but now they can also accept direct payments. You'll need to create an account to get started, then click on the "Collect Money" tab for step-by-step directions for accepting payments or donations.
Memberships
There are several membership options, each with different features that work for different size charities.
Basic - This is the free version recommended for very small groups. You can only have one administrator and one sign up at a time.
Silver - For just under $100 per year, you get added features like multiple sign ups and the ability to stop ads.
Gold - Recommended for small organizations, $250 per year gets you benefits such as one gigabyte of cloud storage and email scheduling.
Platinum - For just under $500 per year, large organizations get three gigabytes of cloud storage and have up to 50 administrators.
Fees and Payments
Additional fees include 5 percent of all purchases plus 50 cents per transaction. Sellers decide who pays those fees can use the themed pages to fundraise for capital campaigns, auctions, or 5K's. Funds are then deposited into your linked bank account.
Pros and Cons
Participants can register for events, sign up to volunteer, donate goods, and purchase tickets or pay registration fees all in one place. The major drawback here are the fees and costs, which can be too high for many nonprofits.
Tips
When using a fundraising website to collect your donations, it's important to find a professional, trustworthy site that fits all your needs.
Legitimate sites list big name organizations and examples of how those companies use the site's resources.
Read the FAQ sections to see the fine print and any hidden fees.
Use a search engine to look up the website name with the word "complaints" to see if it's trustworthy.
Clarify all your fundraising needs first, then look for one site that can help you achieve it all.
Fundraising Made Easy
You don't have to create all the sign-up sheets by hand or send employees on door-to-door giving missions thanks to technology. When you make giving easy and convenient for community members and far away donors, they're more likely to donate.