Bake sales have long been among the most popular of fundraising ideas. Holding a pie fundraising sale is a slightly different approach that can be a fun and profitable way for nonprofit organizations to raise money. If you want to hold a pie fundraiser and you don't want to make your own pies, consider working with an established company that offers a structured fundraising program. You can simply have your participants take orders, then distribute them when those orders are delivered.
Distributer Options for Pie Fundraisers
The easiest place to start with a pie fundraiser is to sign up with an established fundraising company who offers pie sales as an option. Look for companies that offer a good variety of pies and give you the highest percentage of profits. Once you sign up, the company typically sends you all the materials you need to run the fundraiser.
The Pie Shoppe
The Pie Shoppe claims to have the "recipe for cash" and delivers to a large area that includes Western Pennsylvania, West Virginia, North Eastern Maryland, and North Eastern Virginia. The company has been in business for over 60 years with fundraising options for the last 33 years, so they're doing something right! They have detailed plans on their Fundraising Program page and provide all the tools you need for your sale.
Pros:
There's a free poster creator for fundraising groups where you input your sale information and it generates a marketing poster for you.
You make at least $2 per item sold in profits, more if you increase sale prices.
The pies are homemade and fresh, not frozen or raw.
There are 12 standard pies to choose from and 9 different specialty pies offered at different times of the year.
You can get discounts for large quantity sales to increase profits.
Pies can be picked up or delivered to the defined delivery area.
You pay the driver or send in payment after pie delivery, so you don't have to collect money before you place your order.
Cons:
They don't accept sales on Sunday or Mondays, except during holiday times.
All pies are a standard 9-inch size, there are no other size options.
Delivery is only free for sales of 75 or more items.
Volunteers are needed to unload the pies from the delivery truck.
Achatz Handmade Pie Co.
The Achatz Handmade Pie Co. gives you fundraising choices if you live in Michigan. You can sell ready-to-bake pies along with other products such as cookies, brownies, soups, jams, salad dressings, and teas. The company has been in business for over 25 years, so they are reputable.
Pros:
You keep 35% of profits.
There is a wide assortment of pies from cream pies to fruit pies and seasonal pies available at certain times during Spring or Summer.
The pies are all-natural and homemade locally in Michigan.
Achatz has been featured nationally in magazines like Food & Wine and on shows like The Today Show.
Cons:
Sales and distribution is limited to the state of Michigan.
Pies are not ready-to-eat upon delivery/pickup.
Marie Callender's
If you live in Utah, Nevada, or California near a Marie Callender's Restaurant and Bakery, you can host a Marie Callender's Whole Pie Fundraiser. Once you're signed up, the company will give you all the flyers and materials you need for your pie sale.
Pros:
You choose the sale price for the pies after you buy them for $10.99 each so you can set your own profit margin.
Marie Callender name is widely recognized and trusted for great flavor.
All you have to do is sell and distribute, everything you need to succeed is provided by the company.
Cons:
Only a small selection of pie varieties are available for fundraisers.
Guidelines vary by restaurant location, so fundraising may not be available in some areas.
Local Pie Shop or Bakery
If you have a local bakery you can partner with, you can sell local pies in much the same way any fundraising company works. This will take more effort on your part because you'll have to sort out all the details. Head to the bakery and talk with the owner or manager to see what options you have. They may be able to let your group do distribution straight from the bakery so you don't have to find a suitable place to keep the pies fresh when getting them out to sellers to deliver or customers to pick up.
Homemade Pies
If you have willing volunteers who can bake, consider making your own pies to sell for profit. This option will bring in the most funds for your organization since volunteers can bake several versions of pies to sell for a set price. The cost upfront for your organization will be the ingredients used for the pies, unless you are able to get that donated. The less expenses incurred for your organization, the more money you can expect to earn in profits. You can take pre-orders or host a pie-only bake sale.
How to Run a Pie Fundraiser
Whether you use a fundraising company or do the whole thing on your own, there are a few simple steps to making your pie fundraiser a success.
Step One: Set Dates and a Goal
Pie fundraisers are great annual fundraisers because customers will look forward to buying your product year after year if its really yummy. Setting a dollar amount goal from the start will help you determine which type of pie fundraiser is best for your group. Tips for setting fundraiser dates include:
Consider dates close to holidays where pies are typically served like Thanksgiving and Christmas.
Another great time of year is Pi Day, or March 14, which represents the first three numbers in the math property called Pi.
Set a selling period of about two to three weeks.
End the selling portion about ten days before the pie delivery/pick up date.
Step Two: Choose Your Distributor
Once you know when you want to host your sell, you need to decide whether you'll use a local pie shop, a larger pie fundraising company, or bake the pies on your own. No matter which avenue you choose, you'll need to set your dates in stone with whoever is making the pies before you start selling.
Consider your volunteer pool. If your group is small and you know you have trouble getting parents to volunteer, a fundraising company is your best bet.
If you know you'll be selling hundreds or thousands of pies, a fundraising company can best keep up with that demand.
When you have a small group or a small customer base, you'll make more profits from making homemade pies or partnering with a local pie shop.
Step Three: Market and Sell
With homemade, locally made pies, and some companies, you'll have the option to buy pies wholesale and sell them or take orders for pies. The main disadvantage of buying wholesale then selling is you might be left with unsold pies. The main disadvantage of pie orders, is the pies often come frozen on delivery/pick up day and you need to distribute them quickly.
If you make pies or get them locally, you could sell by the slice and/or whole pies.
Create flyers to hang around town and use social media to market your sale with clear details on fundraiser dates and how to order.
Choose a fun theme like Pi and math or "Pie in the Sky" to help make your sale more inviting.
Sellers can dress up like bakers with aprons and chef hats while they sell to draw in customers.
Look for places to set up and sell such as a farmer's market, outside the grocery store, or during a large event at your organization such as a vendor fair or concert.
Individual sellers, like students, can solicit sales from friends and family members, but selling randomly from door-to-door isn't recommended since it can make quick deliveries difficult.
Step Four: Organize and Distribute Pies
If you're asking for pie orders, after you've turned them all in you'll have a delivery date set. Some companies will organize your pies by order, but others will not. If your company doesn't or you're fulfilling orders with homemade pies, you'll want to have one location where customers can pick up their pies.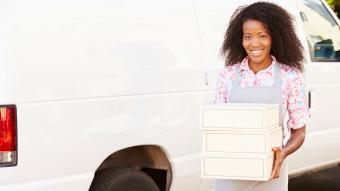 Choose a central distribution location with access to large freezers if you need them, such as a school cafeteria or local restaurant.
Organize orders in alphabetical order by last name so they're easy to find.
Set a small window of time where sellers or customers can pick up the pies so they stay fresh or frozen.
Add to your profits by selling cold storage bags at distribution so customers can put their cold pie in the bag and keep it cool on the way home.
Pies, Fundraising, and You
Selling pies can make your organization a great deal of money if each participant is committed to selling just a few pies. After all, who doesn't like a homemade pie that requires no attention-just cut and eat? And who doesn't like pies fundraising that's just as easy to manage?