If you are planning on making a charity donation in lieu of a Christmas gift, there are a few ways to go about doing so to ensure that the gift recipient understands why you've chosen to give them this type of gift. Keep some tips in mind to help you pick a meaningful organization that the recipient will love.
Charity Donation in Lieu of Christmas Gift
If you are making a donation in lieu of a gift, there are a few tips to keep in mind so the recipient understands your decision to give them this gift.
Finding the Right Charity
The most important aspect of giving this type of gift is to find a charity that is meaningful for the recipient. Picking a random charity, although still a nice gift, may not mean as much to the recipient if they don't have any sort of emotional ties to the foundation or the cause. When picking a charity:
Consider the recipient's past volunteer history.
Think about what they have talked about being passionate about.
Think about issues that have personally impacted them or their loved ones.
How Do You Make a Donation in Someone's Name?
If you are wondering how to give a donation as a gift:
Make sure the recipient will be comfortable receiving this as a gift.
Pick a charity that supports something that is meaningful to them.
Write a card that highlights why you selected this certain charity for them.
Consider asking them which charity they would like to support, even if it ruins the surprise.
Consider getting them a traditional gift as well.
When making the donation, most organizations will have an option that allows you to make the donation in someone else's name when filling in the appropriate information on their website.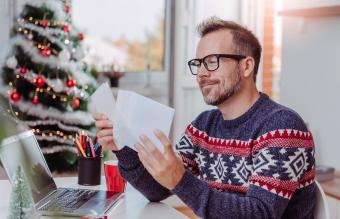 What Do You Say When You Make a Donation?
Donation on behalf of someone else as a gift wording examples that you can put in a card.
In the spirit of the holiday season, I've made a donation to your favorite charity in your name.
I know how important giving back is to you, so I've made a donation in your name to honor your generous nature.
I've made a donation in your name to (insert charity's name) to celebrate the spirit of Christmas. I know how much you care about (insert charity's main mission) and wanted to support your passion for (insert recipient's passion).
Does the Recipient Want a Donation Made in Their Name?
When giving this type of gift, know that not everyone will appreciate this, so it's best to really think about the recipient before going forward with this type of present. A child or teenager will likely not be happy receiving this type of gift, so it may be best to leave this type of gift for adults.
How Do You Ask for Donations in Lieu of Gifts?
If you would like donations in lieu of gifts, you can say:
This year, if you plan on gifting our family anything, we'd appreciate a donation made out to (insert charity name). This charity is close to our heart and it would mean a lot to us if you donated to them instead of gifting us anything.
Instead of gifts this year, we are requesting donations made out to (insert charity's name).
Making a Christmas Gift Donation to Charity
If you are donating to charity in someone's name as a gift, be sure you select a charity that is the right fit for the recipient. If you are unsure if the recipient will appreciate this type of gift, you can always ask them beforehand, or get them an additional gift.