Finding out where to donate eyeglasses is easy when you know where to look. Just follow this quick guide to places that accept donated eyeglasses and how to donate your gently used eyeglasses.
List of Where to Donate Eyeglasses
According to the OneSight and Deloitte study on vision need around the world, 1.1 billion people in the world need eyeglasses, but don't have access to vision care, much less eyeglasses. You can change someone's life when you donate your glasses.
Lions Club
The Lions Club partners with many nonprofit organizations and companies. You can participate in the donation program of these groups or you can send your donated eyeglasses to Lions Optometric Vision Clinic. The clinic was founded by the San Diego County Lions Clubs (California) as a service project. You can donate your eyeglasses frames either by mailing or dropping them off there.
Goodwill
You can donate your eyeglasses to Goodwill. Goodwill partners with other nonprofits to get eyeglasses to low-income individuals. You can drop off your glasses at the Goodwill store.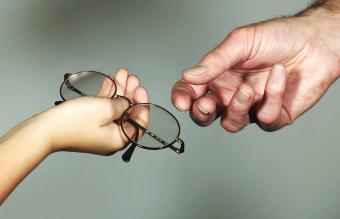 The Salvation Army
The Salvation Army has many programs that help people in time of need. They take eyeglasses donations as well as sunglasses, and you can drop off your eyeglass at your local Salvation Army Thrift Store.
ReSpectacle
The nonprofit organization ReSpectacle accepts eyeglass donations from local communities. You can easily find an eyeglass collection bin using the online locator map. Once your eyeglasses are received, they are cleaned and categorized. They are then added to the online database according to their prescription.
VSP Global
VSP Eyes of Hope collects both new and used eyeglasses to distribute worldwide. Eye doctors and optometric organizations can request an Eye Make A Difference® donation box and download the flier to collect eyeglasses. Boxes are conveniently located in their offices, and a prepaid shipping label makes it very easy to donate. In addition, doctors can request eyeglasses for outreach programs.
America's Best
If you're seeking a way to help people in over 37 countries, your eyeglasses donation can be a life-changing gift to someone needing vision correction. America's Best distributes 240,000 pairs of used glasses with a focus on rural areas throughout the world.
OneSight
OneSight is a vision care program made up of a family of charitable organizations. OneSight holds one to two-week vision clinics around the world. The clinics offer free eye exams and eyeglasses are made-to-order right on the site, but they also accept used glasses which can be dropped off at a local vision center such as LensCrafters.
Big Box Stores and Optical Shops Accepting Donated Eyeglasses
Many Big Box stores are partners with the Lions Club. You can find donation bins in the vision centers of these stores. Some stores don't accept over-the-counter reading glasses.
Costco
Costco Optical centers accept most eyeglasses onsite and usually display an eyeglass donation box/bin. You can double check with your local Costco Optical center to make sure you can donate your eyeglasses.
Walmart
Most Walmart Vision Centers feature a Lions Club blue and white donation bin/box. You should always double check to make sure your local Walmart Vision Center accepts donations of eyeglasses.
Sam's Club
Most Sam's Club (Walmart owned) Sam's Club Optical Centers feature a Lions Club blue and white donation bin/box.
Pearle Vision
Pearle Vision is another store chain that participates in collecting used eyeglasses. You can drop off your eyeglasses at your local store.
Where to Donate Glasses That Are Gently Used
When you realize there are many choices for donating your gently used eyeglasses, it's easy to find a donation site. You can review the donation listing and select a business or organization in your local area.