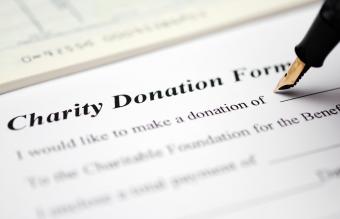 If you're responsible for securing charitable contributions, a donation request template is a must to help keep you organized. The printable donation form and letters provided here can be saved to your desktop or printed to use as needed. They are designed to assist you when soliciting items for a charity auction or other type of fundraising event, as well cash contributions. If you need help downloading the printables, check out these helpful tips.
Printable Donation Request Form Template
Using a donation request form can make easy work of requesting and organizing donated items or financial contributions. Providing a copy of this form to individuals who wish to contribute helps ensure that you are able to keep track of necessary information, such as the value of each donation and who the donor is. Simply click the image below and the form will open as an editable PDF document. Click anywhere in the body of the template to make changes.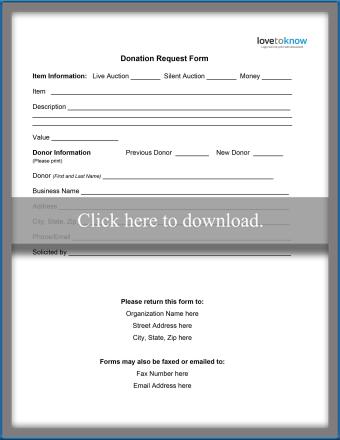 You can enclose the donation request form with donation request letters (templates below) that are mailed to local businesses as a way to make it easy for supporters to let you know how they want to contribute. You may also want to consider printing a stack of forms to give to committee and board members who are helping solicit items from businesses where they have personal contacts. The form can also be used when a personal visit or phone call is used to secure a donation and to keep track of the donations coming in.
Donation Request Form Letters
If you're soliciting donations from prospective donors, it's a good idea to enclose a copy of the donation request form along with a letter that explains your fundraising efforts. The letter should be written in a manner that will persuade people to contribute, and the form should be enclosed with individual contributions. Choose the appropriate letter template based on whether you are soliciting money or items.
These templates are just a few examples of donation request letters. You can edit these form letters to meet your needs, or opt for versions focused on specific purposes, such as capital campaigns, special events, holidays, school or church fundraisers, and more.
Simplify Fundraising With Donation Templates
Whether you download and use the donation form and letter templates provided here or if you use them as a guideline for creating one of your own versions, these documents can be an invaluable tool. Once you receive completed forms back from each donor, you can begin organizing the donations for the event and recording each donor's contact and contribution information. You can also use the information provided on the forms to provide donation receipts and thank businesses and individuals for their donations. Since you will have contact information from each donor on the form, you can save it to use it for next year's event. Be sure to keep a list of contributors so you can personalize letters or phone calls when you need to secure donations again.